VTuber Freundin Felin Akan Kembali Hadir Mulai Hari Sabtu Ini!
VTuber dengan perawakan gadis kucing ini akan kembali menghiasi hari-hari kalian mulai Sabtu (12/3) mendatang.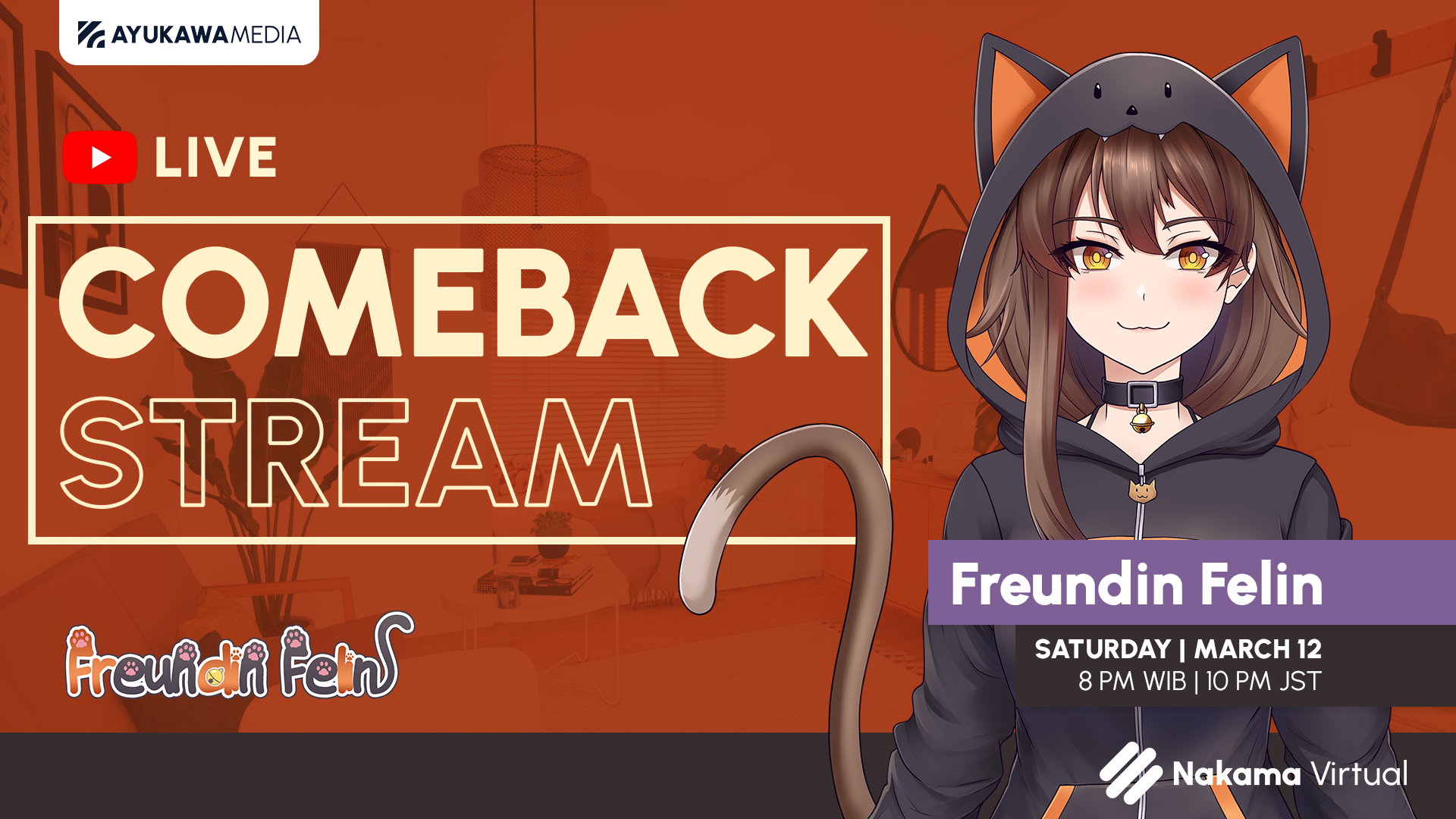 This announcement is available in Indonesian, and English.
Kepada para penggemar dan mitra pendukung Nakama Virtual.
Terima kasih telah mendukung kami hingga saat ini. Seluruh bentuk dukungan yang telah anda berikan sangat membantu kami.
Hari ini (9/3), kami dengan perasaan senang dan bangga, secara resmi mengumumkan kembalinya karakter virtual kami, yakni Freundin Felin!
Setelah melalui berbagai tahapan dalam audisi untuk mencari talenta pengganti, agensi Nakama Virtual telah mendapatkan talenta yang sesuai dengan karakter Freundin Felin.
Kembalinya karakter Freundin Felin sendiri telah dimulai sejak awal Februari 2022, dengan pengaktifan kembali akun media sosial Twitter-nya. Karakter virtual dengan persona 'Gadis Kucing' ini akan sepenuhnya aktif kembali pada hari Sabtu, 12 Maret 2022, dimana ia akan mengadakan event 'Comeback Stream' di platform YouTube.
Tak hanya event 'Comeback Stream', Nakama Virtual akan menghadirkan sejumlah kejutan yang menarik bagi penggemar Freundin Felin di waktu yang akan datang.
Kami harap pengumuman ini dapat menjadi penyemangat bagi para penggemar Freundin Felin untuk terus mendukung talenta kesayangannya. Terima kasih!
VTuber Freundin Felin Is Back, Starting Saturday!
Dear Nakama Virtual fans and supporting partners.
Thank you for supporting us so far. All forms of support that you have given is very helpful for us.
Today (9/3), we are happy and proud to officially announce the return of our virtual character, Freundin Felin!
After going through various stages of auditioning to find replacement talents, the Nakama Virtual agency has found talents that is suitable with the character of Freundin Felin.
The return of Freundin Felin itself has begun since early February 2022, with the reactivation of her Twitter social media account. This virtual character with the persona of 'Cat Girl' will be fully active again on Saturday, March 12th 2022, where she will hold a 'Comeback Stream' event on YouTube.
Not only the 'Comeback Stream' event, Nakama Virtual will preparing a number of interesting surprises for Freundin Felin fans in the future.
We hope this announcement can be an encouragement for Freundin Felin fans to continue to support their beloved talent. Thank You!
---
For further inquiry regarding this publications, please contact us at: [email protected] with subject "[NAKAMA VIRTUAL] Your Name"