Pengumuman Pengunduran Diri & Audisi Pemeran Suara Freundin Felin
Agensi Nakama Virtual mengumumkan bahwa pemeran suara dari Freundin Felin telah resmi mengundurkan diri.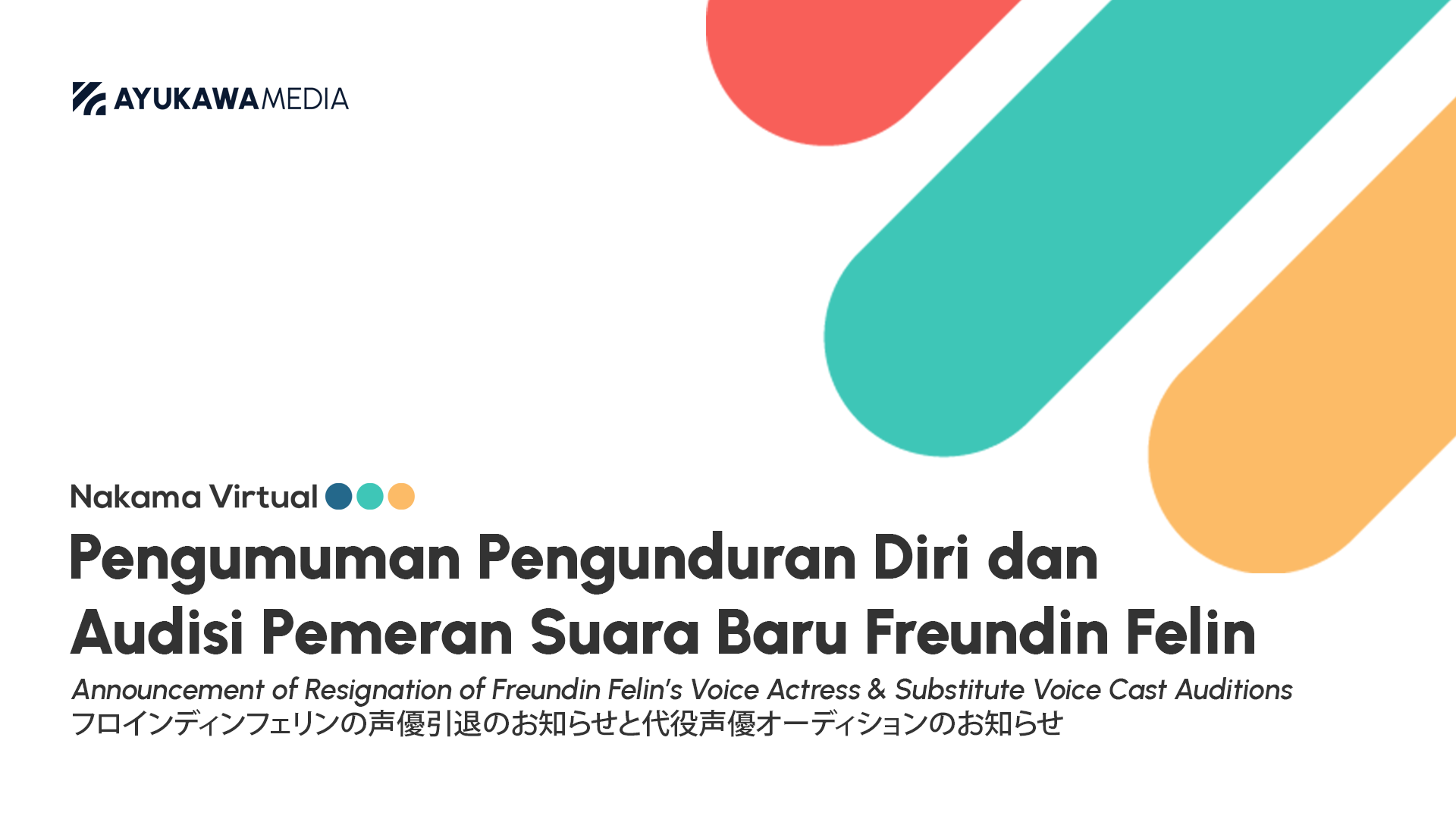 This announcement is available in Indonesian, English, and Japanese.
Kepada para penggemar dan mitra pendukung Nakama Virtual.
Terima kasih telah mendukung kami hingga saat ini. Seluruh bentuk dukungan yang telah anda berikan sangat membantu kami.
Melalui pengumuman ini, agensi Nakama Virtual mengumumkan bahwa pemeran suara dari Freundin Felin telah resmi mengundurkan diri.
Pengajuan pengunduran diri tersebut telah diserahkan kepada manajemen secara tertulis pada tanggal 18 November 2021. Manajemen Nakama Virtual menerima dan menghormati keputusan yang telah diambil oleh pengisi suara tersebut.
Dengan dirilisnya pengumuman ini, aktris suara terkait telah menunaikan tugas-tugasnya sebagai Virtual Youtuber, dan telah resmi mengundurkan diri dari manajemen. Seluruh tindakan dari aktris suara terkait, terhitung sejak pengumuman ini dirilis, tidak lagi menjadi tanggung jawab manajemen Nakama Virtual.
Kemudian, setelah melalui proses diskusi yang cukup panjang dengan pengisi suara tersebut, Nakama Virtual memutuskan untuk melanjutkan kegiatan dan mencari pengisi suara pengganti untuk karakter Freundin Felin.
Persyaratan yang harus dipenuhi tersedia dalam formulir pendaftaran berikut ini. Formulir pendaftaran akan ditutup pada tanggal 3 Januari 2021, pukul 23.59 GMT +7.
Kami berharap aktris suara Freundin Felin terdahulu dapat sukses menjalani karirnya di masa depan, dan dapat bertemu di lain kesempatan.
Sekian, dan Terima Kasih.
---
Announcement of Resignation & Open Audition of Freundin Felin's Voice Actress
Dear Nakama Virtual fans and supporting partners.
Thank you for supporting us so far. All forms of support that you have given is very helpful for us.
Through this announcement, Nakama Virtual announced that the voice actress of Freundin Felin has officially resigned.
The resignation has been submitted to management on November 18th, 2021. Nakama Virtual management accepts and respects the decision that has been taken by the voice actress.
With the release of this announcement, the related voice actress has fulfilled her duties as a Virtual Youtuber, and has officially resigned from the management. All actions of the related voice actresses, as of the date of this announcement, are no longer the responsibility of Nakama Virtual's management.
After going through a long discussion process with the said voice actress, Nakama Virtual decided to continue activities and look for a replacement voice actress for Freundin Felin's character.
The requirements that must be met are available in the following registration form. Available only in Indonesian. Application forms will close on January 3, 2021, 23:59 GMT +7.
We wish the former voice actress of Freundin Felin a successful career in the future, and to meet again at another opportunity.
Thank you.
---
フロインディンフェリンの声優引退のお知らせと代役声優オーディションのお知らせ
ナカーマ・バーチャルのファンの皆様、サポートパートナーの皆様へ。
これまで応援していただき、ありがとうございました。皆様からの様々なサポートは、私たちにとって非常に有益なものです。
この発表により、ナカーマバーチャルは、フロインディンフェリンの声優が正式に退社したことを発表しました。
当該ボイスアクターは、2021年11月18日付で退職届を提出しました。ナカーマ・バーチャルの経営陣は、声優が取った決断を受け入れ、尊重します。
本発表をもって、当該声優はバーチャルストリーマーとしての職務を全うし、当社を正式に退社いたしました。また、本発表日現在における当該声優の行動は、ナカーマバーチャルの管理責任から外れるものです。
ナカーマ・バーチャルは、当該声優と長い間協議した結果、活動を継続し、フロインディンフェリンの代わりの声優を探すことにしました。
満たすべき要件は、以下の登録フォームで確認できます。応募は2021年1月3日 23:59 GMT +7で締め切られます。インドネシア語のみ。
同社は、「インディンフェリン」の元声優の今後の活躍を祈念しています。
ありがとうございます。