Pengumuman Kelulusan Talenta Nakama Virtual Generasi 1
Nakama Virtual resmi mengumumkan kelulusan talenta Dedy Fortemus, Naka Ramatya, dan Shirageshi Nana.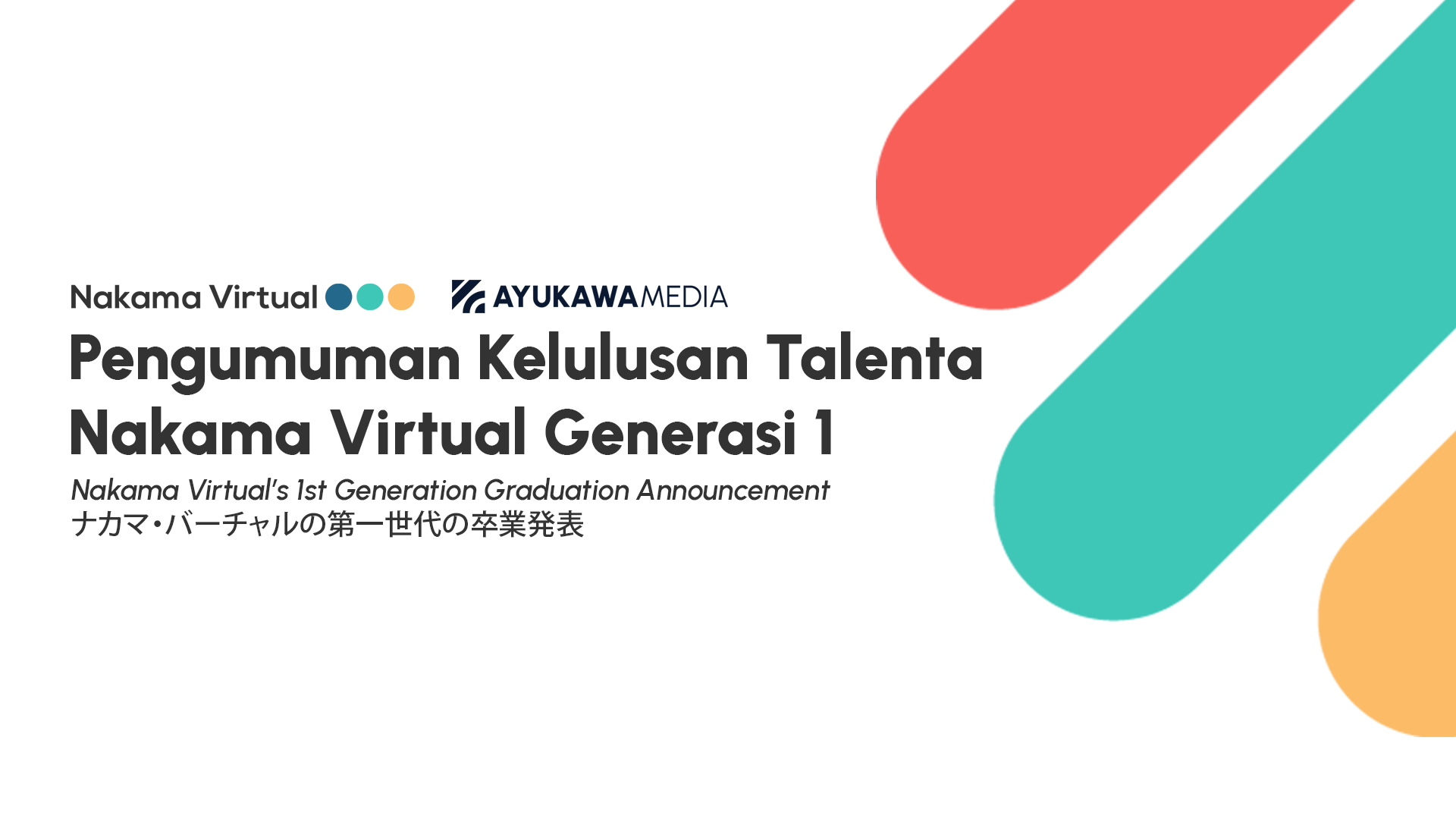 This announcement is available in Indonesian, English, and Japanese.
Kepada para penggemar dan mitra pendukung Nakama Virtual.
Terima kasih telah mendukung kami hingga saat ini. Seluruh bentuk dukungan yang telah anda berikan sangat membantu kami.
Melalui pengumuman ini, agensi Nakama Virtual mengumumkan bahwa talent Shirageshi Nana, Dedy Fortemus, dan Naka Ramatya akan lulus (atau graduate) dari Nakama Virtual dalam waktu dekat.
Keputusan kelulusan tersebut dilandasi atas berakhirnya durasi kontrak kerja yang berlaku selama periode 1 (satu) tahun ini. Ketiga talenta Nakama Virtual tersebut akan secara resmi lulus pada tanggal 1 Januari 2022, pukul 00.00 WIB.
Setelah melewati proses diskusi antara kedua belah pihak pada hari Kamis, 25 November 2021 pukul 00.24 WIB, manajemen menyepakati keputusan yang diambil oleh masing-masing talenta.
Mendekati tanggal kelulusan, Nakama Virtual tengah memenuhi permintaan ketiga talenta, dalam hal penyerahan seluruh aset yang telah disediakan oleh manajemen kepada masing-masing talenta untuk keperluan pribadi.
Manajemen mengucapkan terima kasih kepada para Kreseker (penggemar Dedy Fortemus), Aibo (penggemar Naka Ramatya), penggemar Shirageshi Nana, serta para mitra bisnis karena telah mendukung ketiga talenta hingga kini.
Sekian dan terima kasih.
*Pengumuman terkait talenta Freundin Felin akan dipublikasikan dalam waktu dekat.
---
Nakama Virtual's 1st Generation Graduation Announcement
Dear Nakama Virtual fans and supporting partners.
Thank you for supporting us so far. All forms of support that you have given is very helpful for us.
Through this announcement, the agency announced that the talents of Shirageshi Nana, Dedy Fortemus, and Naka Ramatya will graduate from Nakama Virtual in the near future.
The graduation decision is based on the expiration of the duration of the work contract that is valid for this 1 (one) year period. These three talents of Nakama Virtual will officially graduate on January 1, 2022, at 00.00 WIB.
After going through the discussion process between the two parties on Thursday, November 25, 2021 at 00.24 WIB, the management agreed on the decisions taken by each talent.
Approaching the graduation date, Nakama Virtual is fulfilling the demands of the three talents, in terms of handing over all assets that have been provided by management to each talent for personal use.
The management would like to thank Kreseker (fans of Dedy Fortemus), Aibo (fans of Naka Ramatya), fans of Shirageshi Nana, and business partners for supporting the three talents so far.
Thank you.
*An announcement regarding Freundin Felin's talent will be published in the near future.
---
ナカマ・バーチャルの第一世代の卒業発表
ナカーマ・バーチャルのファンの皆様、サポートパートナーの皆様へ。
これまで応援していただき、ありがとうございました。皆様からの様々なサポートは、私たちにとって非常に有益なものです。
今回の発表により、所属タレントの「Shirageshi Nana」「Dedy Fortemus」「Naka Ramatya」が近日中にナカマバーチャルを卒業することが発表されました。
この1年間有効な契約期間の満了に伴い、卒業を決定します。ナカーマバーチャルのこれら3人のタレントは、2022年1月1日、00.00 GMT+7に正式に卒業することになります。
2021年11月25日(木)00.24WIBに両者の話し合いプロセスを経て、各タレントが下した決断に運営側が合意しました。
ナカーマ・バーチャルは、卒業を間近に控え、経営陣から各タレントに提供されたすべての資産を個人使用として譲り渡すという点で、3人のタレントの要望を満たしている。
これまで3人のタレントを応援してくださった「Dedy Fortemus」のファンの皆様、「Naka Ramatya」のファンの皆様、「Shirageshi Nana」のファンの皆様、取引先の皆様に、マネジメントより御礼申し上げます。
ありがとうございます。
*フロインディン・フェリンの所属タレントについては、近日中に発表する予定です。
---
For further information or other inquiry, please contact us through this link.