Talenta Gen 2 Nakama Virtual Mulai Debutnya Hari Ini!
Talenta generasi kedua dari Nakama Virtual akan memulai debutnya di YouTube mulai tanggal 29 Maret hingga 31 Maret 2022 mendatang!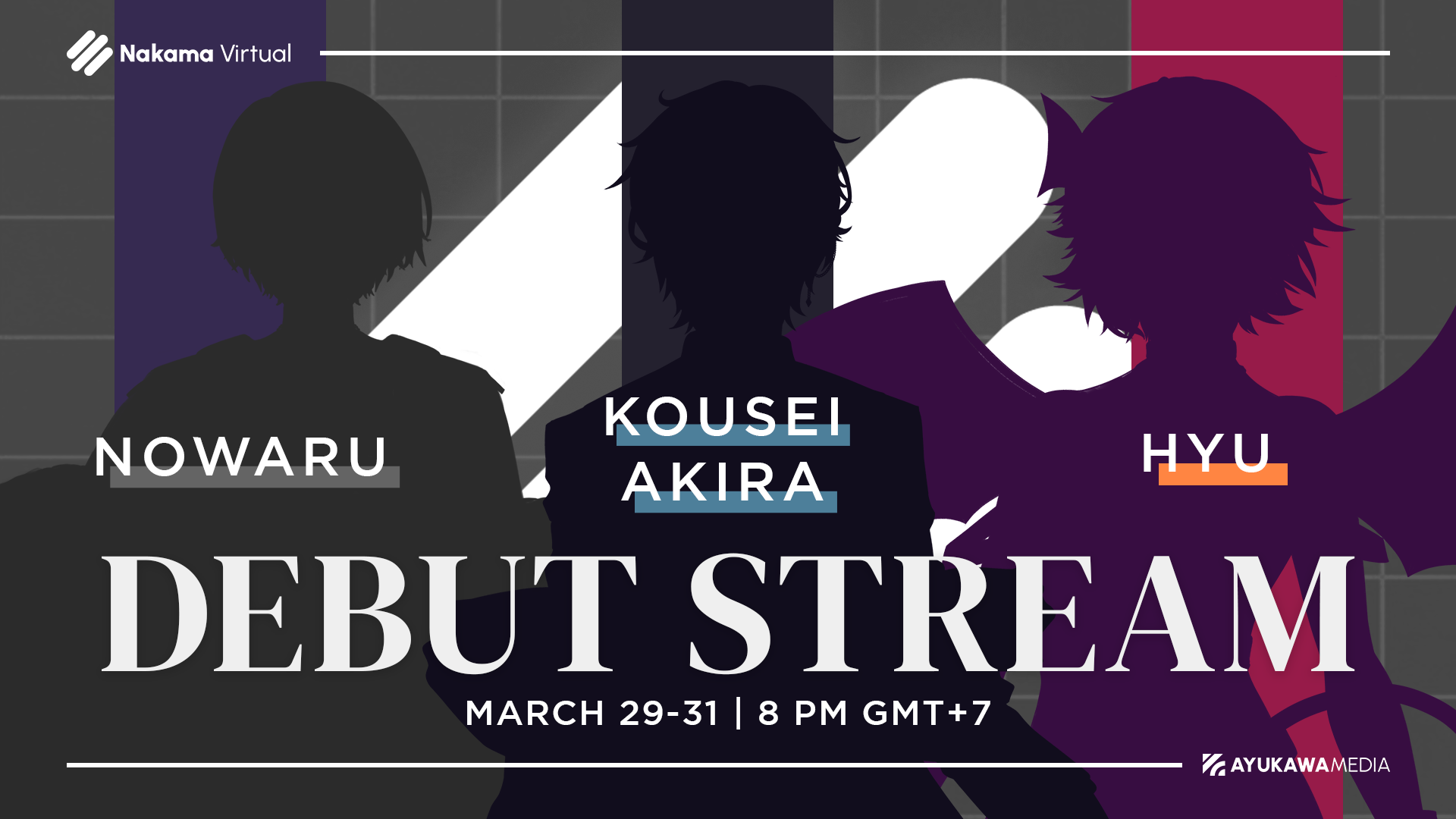 This announcement is available in Indonesian, and English.
Kepada para penggemar dan mitra pendukung Nakama Virtual.
Terima kasih telah mendukung kami hingga saat ini. Seluruh bentuk dukungan yang telah anda berikan sangat membantu kami.
Setelah Felin kembali mengadakan livestreaming pada hari Rabu (9/3/2022) lalu, Nakama Virtual terus bergerak aktif untuk meluncurkan talenta-talenta penuh potensi.
Sesuai dengan rencana, kami secara resmi mengumumkan peluncuran perdana talenta generasi kedua kami! Livestreaming perdana masing-masing talenta akan digelar per-hari mulai hari ini (29/3) hingga Kamis (31/3) mendatang.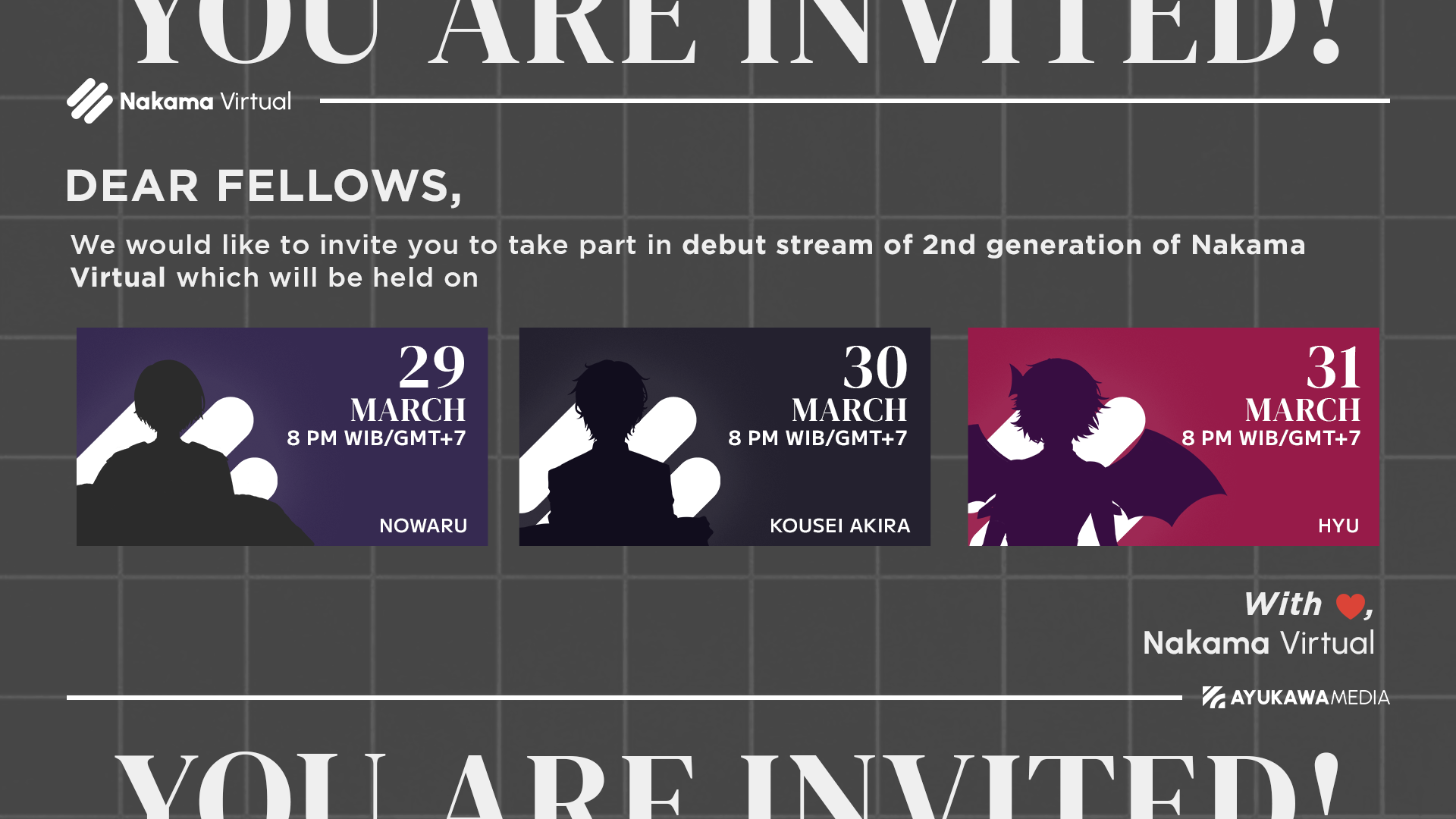 Sedikit fakta yang belum diketahui sebelumnya, audisi talenta generasi kedua ini diadakan bersamaan dengan audisi talenta generasi pertama Nakama Virtual.
Talenta pertama yang akan livestreaming perdana pada malam ini (29/3) adalah Nowaru. Ia merupakan seorang peneliti remaja. Namun, ia bukanlah sekadar peneliti biasa!
Ia telah berhasil melakukan perjalanan antar waktu dan antardimensi! Kini, ia tinggal di sebuah 'jembatan' antara ruang dan waktu yang hampa.
Talenta berikutnya adalah Kousei Akira. Talenta yang akan melakukan livestreaming perdananya pada hari Rabu (30/3) mendatang merupakan seorang Oni!
Bukannya menjadi Oni yang perkasa, Akira justru memiliki niatan lain, yakni menjadi seorang butler di sebuah rumah mansion yang besar. Akankah ia mampu melayani tuannya?
Dan terakhir dalam lineup talenta generasi kedua kami adalah Hyu! Incubus berbahaya ini akan melakukan livestreaming perdananya pada hari Kamis (31/3) mendatang.
Makhluk Incubus ini tak dapat dipandang remeh. Sebab, ia sangat lihai menipu orang. *Peringatan: Siaran Langsung untuk debut perdana Hyu tergolong dalam kategori R-18. Penonton diharap bijak dalam menonton.
Seluruh livestreaming akan diadakan pada jam yang sama yakni pukul 20.00 WIB atau GMT+7.
Seiring berjalannya waktu, kami akan memperbaharui laman Talenta dan Basic Rules for Viewers dalam situs web ini.
Menutup pengumuman ini, kami mengharapkan kehadiran anda dalam debut kali ini dan juga bersenang-senang bersama sembari merayakan hadirnya talenta baru kami. Terima kasih atas dukungan anda!
---
Nakama Virtual's 2nd-Gen Talent Debuts Today!
Dear Nakama Virtual fans and supporting partners.
Thank you for supporting us so far. All forms of support that you have given is very helpful for us.
After Felin held livestreaming again on Wednesday (9/3/2022), Nakama Virtual is constantly on the move to launch our talents full of potential.
As planned, we are officially announcing the premiere of our second generation talent! The first live stream of each talent will be held from today (29/3) to Thursday (31/3).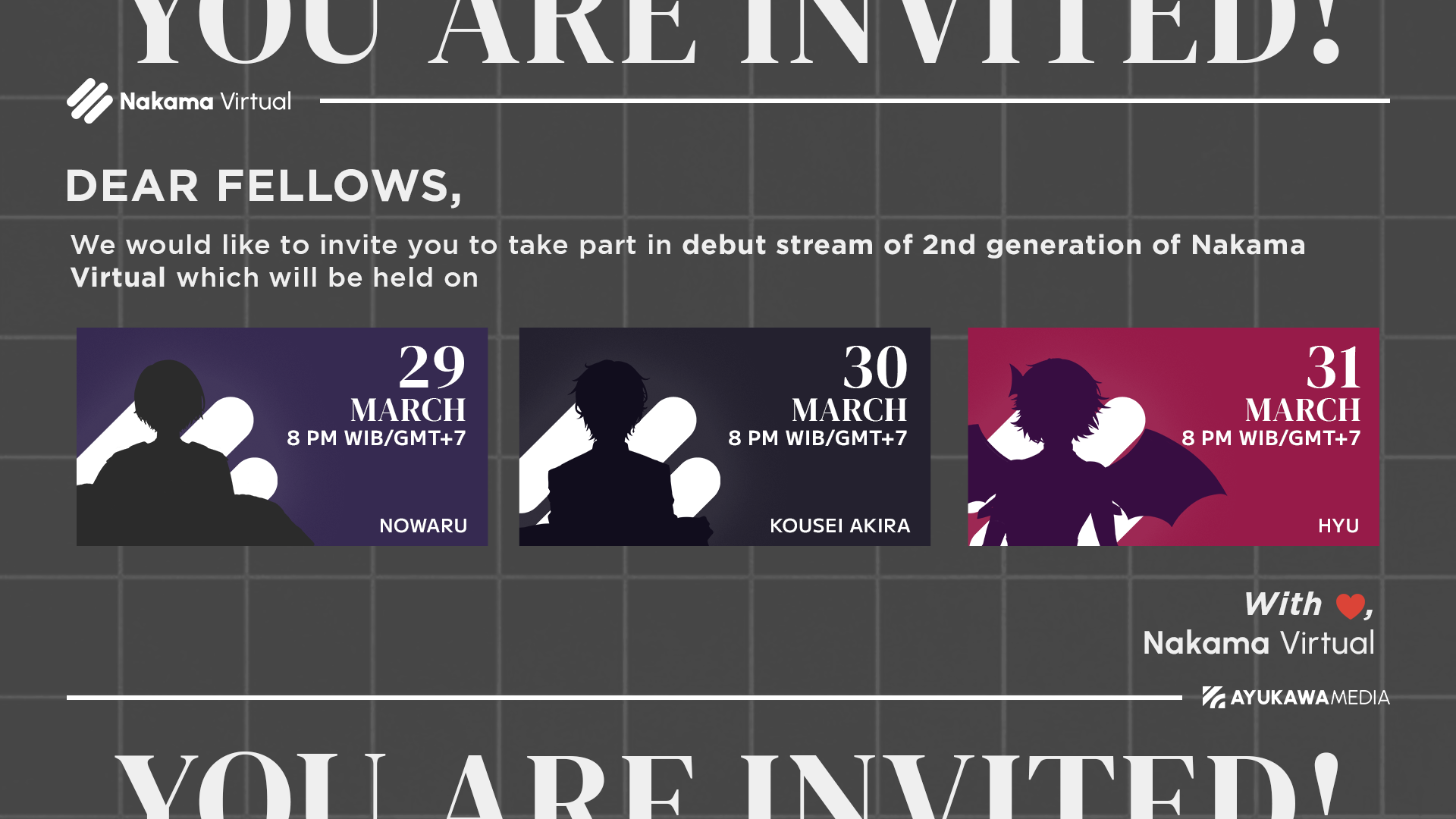 As a matter of fact, the audition for the second generation talent was held at the same time as the Nakama Virtual first generation talent audition.
The first talent who will live stream for the first time tonight (29/3) is Nowaru. He is a young researcher. However, he is not just an ordinary researcher!
He has successfully traveled between time and between dimensions! Now, he lives on a 'bridge' between empty space and time.
The next talent is Kousei Akira. The talent who will be doing his first live stream on Wednesday (30/3) is an Oni!
Instead of being a mighty Oni, Akira has other intentions, which is to become a butler in a large mansion. Will he be able to serve his master?
And finally in our second generation talent lineup is Hyu! This dangerous Incubus will do its first livestream on Thursday (31/3).
This Incubus creature cannot be underestimated. Because he is very good at deceiving people. *Warning: This livestream is considered as R-18. Viewers discretion is advised.
All livestreams will be held at the same time, at 20.00 WIB or GMT+7. Please make sure you're watching it at the right time.
Over time, we will update the Talents and Basic Rules for Viewers pages on this website.
Closing this announcement, we look forward to welcoming you to our talent debut and also having fun together while celebrating the arrival of our new talent. Thank you for your support!
---
For further inquiry regarding this publications, please contact us at: [email protected] with subject "[NAKAMA VIRTUAL] Your Name"