Don't Miss Out on Nakama Virtual's Exclusive VTuber Merchandise at Comifuro 16!
Nakama Virtual brings unique and affordable merchandise to Comifuro 16. Want to know what's in store? Get the inside scoop now!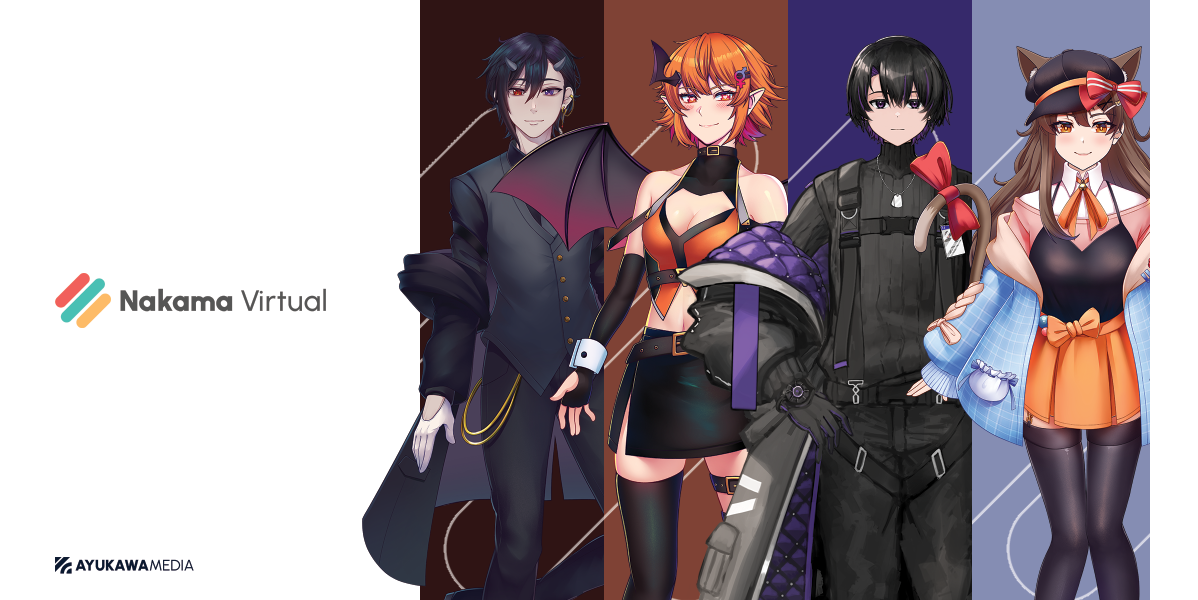 This announcement is available in Indonesian and English.
Hai, Nakama-tachi! Akankah kamu datang ke Comifuro 16 bulan Mei mendatang? Jika iya, kami punya kabar baik untukmu!
Pasalnya, agensi Virtual Youtuber Nakama Virtual bakal datang ke Comic Frontier 16 dengan segudang acara serta merchandise yang unik, menarik, sekaligus terjangkau di kantongmu.
Kegiatan ini juga menjadi momen yang penting bagi Nakama Virtual, untuk mengenalkan agensi VTuber ini beserta talenta-talenta unik yang ada dalam agensi ini.
Kira-kira apa saja yang akan ada di booth Nakama Virtual kali ini, ya? Simak informasi berikut ini!
Siap-Siap Temui VTuber Kesayangan Kamu Secara Langsung!
Nakama Virtual ingin memberikan pengalaman terbaik bagi kamu para penggemar talenta VTuber kami. Nantinya, kami akan menghadirkan sejumlah acara menarik selama gelaran berlangsung.
Berikut deretan acara menarik yang bisa kamu ikuti selama berada di booth Nakama Virtual:
Talk with Our Talents! Kamu berkesempatan untuk berbicara langsung dengan talenta VTuber dari Nakama Virtual secara gratis di booth kami yang terletak di Booth AB-09. Mulai dari pukul 10.00 s/d 13.00 WIB.
Exclusive Launch: 3D Figure! Nakama Virtual akan merilis 3D Figure untuk yang pertama kalinya! Didesain di Indonesia dan Amerika Serikat, serta diproduksi secara lokal di Surabaya, Nakama Virtual akan mengenalkan sekaligus membuka Pre-Order 3D Figure ini di Comic Frontier 16. Launching akan dilakukan di booth resmi kami pada Day 1 (Sabtu), pukul 13.00 WIB. Catat tanggalnya, ya!
Flash Sale! Nakama Virtual akan menjual sederet merchandise kami dalam bentuk paket kombo dengan harga miring. Flash Sale akan dibuka jelang penutupan booth di Day 1 dan Day 2, mulai pukul 16.30 WIB.
Nakama On The Go! Ambil kesempatanmu untuk mendapatkan Human Standee talenta VTuber Nakama Virtual lewat lelang yang akan diadakan jelang penutupan booth di Day 2! Lelang akan digelar pada pukul 16.30 WIB.
Ini Merchandise yang Akan Dijual di Booth Nakama Virtual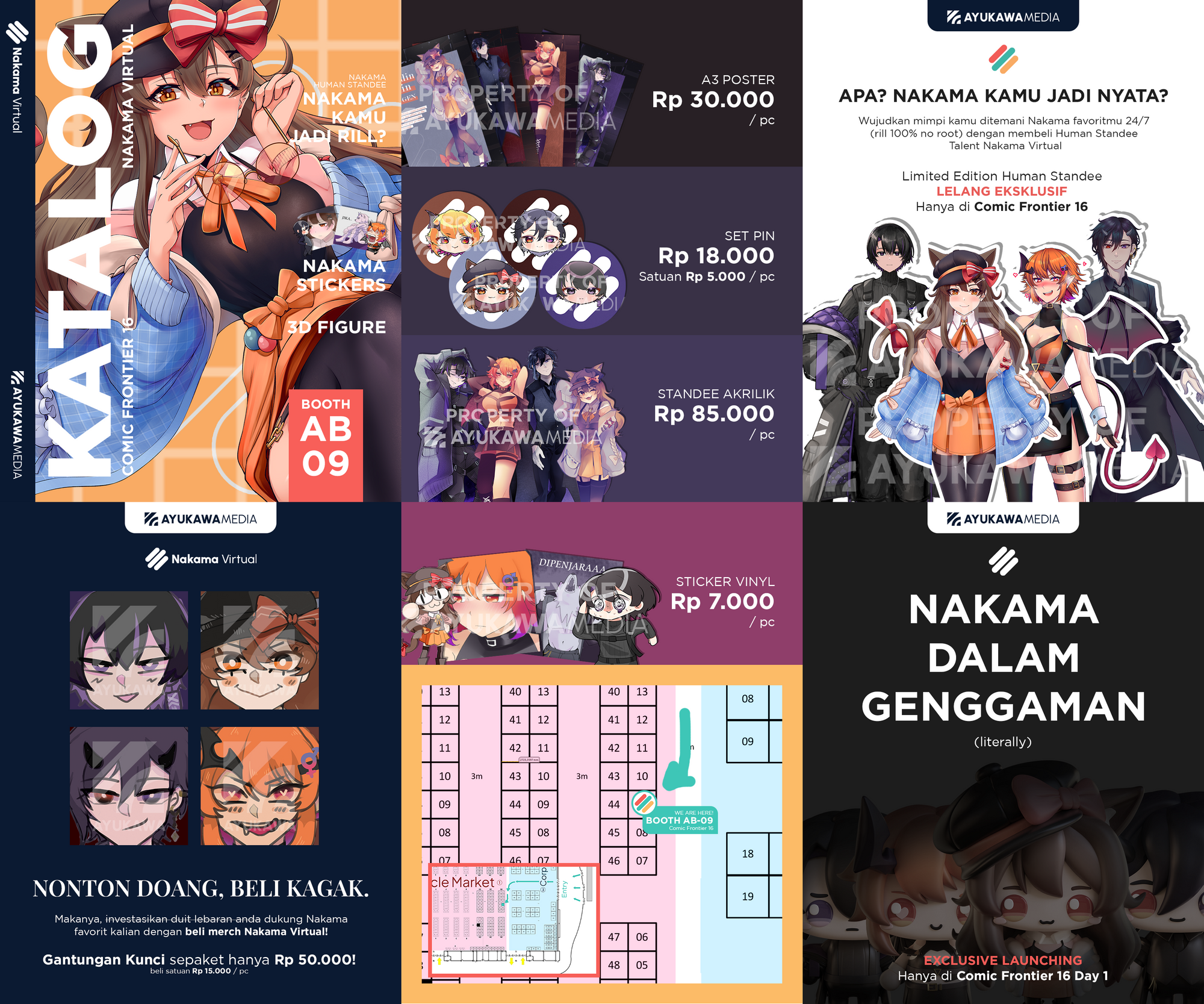 Tidak lengkap rasanya jika pergi ke Comifuro 16 tanpa membeli pernak-pernik khas perwibuan. Begitupula di booth Nakama Virtual, yang rasanya tidak lengkap jika tidak menyediakan merchandise eksklusif dan terjangkau bagi penggemarnya!
Setidaknya, akan ada 5 jenis merchandise yang akan dijual secara langsung di booth ini, lho! Apa saja merchandise tersebut? Berikut daftar lengkapnya!
Poster (ukuran A3): IDR 30,000,-/pcs
Set Pin: IDR 18,000,-/paket (isi 4 pcs) atau IDR 5,000,-/pcs
Standee Akrilik: IDR 85,000,-/pcs
Gantungan Kunci: IDR 50,000,-/paket (isi 4 pcs) atau IDR 15,000,-/pcs
Stiker Vinyl: IDR 7,000,-/pcs
Nakama Virtual akan menjual Human Standee yang kami pajang di booth AB-09 melalui lelang. Pastikan kamu ikutan, ya!
Itulah deretan acara dari Nakama Virtual yang bisa kamu ikuti selama kegiatan Comic Frontier 16 berlangsung. Catat informasinya, dan jangan lupa datang ke booth kami.
Sampai jumpa di Comifuro!
---
Hi, Nakama-tachi! Are you planning to attend Comifuro 16 this coming May? If so, we've got some great news for you! Nakama Virtual, the Virtual YouTuber agency, will be coming to Comic Frontier 16 with a ton of exciting events and unique merchandise that won't break the bank.
This event is also an important moment for Nakama Virtual to introduce their agency and showcase their talented VTuber talents. So, what can you expect to find at the Nakama Virtual booth? Keep reading to find out!
Get Ready to Meet Your Favorite VTubers in Person!
Nakama Virtual aims to provide the best experience for our beloved VTuber fans. We will be hosting a series of exciting events during the event. Check out these amazing events that you can join while visiting the Nakama Virtual booth:
Talk with Our Talents! You have the chance to speak directly with Nakama Virtual's VTuber talents for free at our booth located at AB-09. Starting from 10:00 AM to 13:00 WIB.
Exclusive Launch: 3D Figure! Nakama Virtual is launching its first-ever 3D Figure! Designed in Indonesia and the United States, and locally produced in Surabaya, Nakama Virtual will introduce and open pre-orders for this 3D Figure at Comic Frontier 16. The launch will take place at our official booth on Day 1 (Saturday), at 13:00 WIB. Mark the date!
Flash Sale! Nakama Virtual will be selling a range of our merchandise in combo packages at discounted prices. The flash sale will open near the booth's closing time on Day 1 and Day 2, starting at 16:30 WIB.
Nakama On The Go! Take your chance to get your hands on Nakama Virtual's VTuber talents' Human Standees through an auction that will be held near the booth's closing time on Day 2! The auction will be held at 16:30 WIB.
Check Out the Merchandise Available at Nakama Virtual's Booth!
Please check out our catalog in the Indonesian section above.
Going to Comifuro 16 won't be complete without getting your hands on some exclusive merch! The same goes for Nakama Virtual's booth, which wouldn't be complete without offering unique and affordable merchandise for its fans!
Get ready to grab some exclusive Nakama Virtual merchandise at our booth in Comifuro 16! Here's a list of what we have in store for you:
A3 Posters: IDR 30,000/piece
Pin Set: IDR 18,000/pack (4 pieces) or IDR 5,000/piece
Acrylic Standee: IDR 85,000/piece
Keychains: IDR 50,000/pack (4 pieces) or IDR 15,000/piece
Vinyl Stickers: IDR 7,000/piece
Don't miss your chance to take home some awesome souvenirs and support your favorite VTubers at the same time!
Nakama Virtual is auctioning off the Human Standees of our talented VTubers that we have displayed at booth AB-09. Make sure to participate in the auction!
That's the lineup of events from Nakama Virtual that you can join during the Comic Frontier 16. Take note of the information and don't forget to visit our booth.
See you at Comifuro!